The Boeing aerospace company has a division known as Boeing Commercial Airplanes (BCA). This division is responsible for the marketing, assembly, and sales of their jets and airliners. In this division resides the Boeing Business Jet series. These are variants of Boeing jet airliners that are available for the corporate jet market.
BBJ3 (Year: 2008)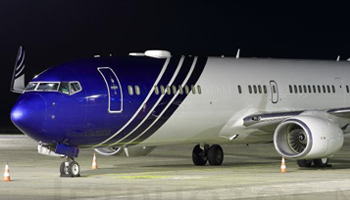 Price: Make Offer
Serial #: 37560
Total Time: 2,925
Number of Landings: 886
Phone: +1-646-971-0810
Location: Hamilton, Bermuda
View Details
Contact
WhatsApp
BBJ 787-8 (Year: 2019)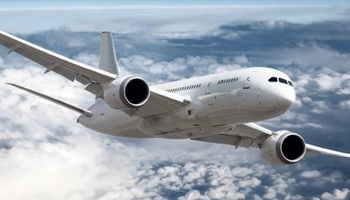 Price: Make Offer
Serial #: N/A
Total Time: N/A
Number of Seats: 39
Phone: +1-646-971-0810
Location: Hong Kong
View Details
Contact
WhatsApp
Boeing BBJ (Year: 2001)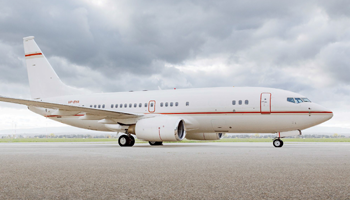 Price: Make Offer
Serial #: 29972
Total Time: 8,902
Number of Seats: N/A 
Phone: +1-646-971-0810
Location: Switzerland
View Details
Contact
WhatsApp
The first Business Jet that Boeing introduced was modelled after the 737-700 and started the groundwork for the 737-700ER aircraft. Down the road in 2002 they introduced the BBJ2 which is based on the 737-800. It offered similar range and a 25% larger cabin. Approximately 7 years later, the BBJ3 was announced (based on the 737-900ER) which came with more improvements such as 5% more range, longer cabin (approximately 9 feet) and more.
Since then, Boeing has released many different aircraft which can be found under their narrow-body models which are assembled in their Renton, Washington Factory. Along with their wide-body models which are assembled in their Everett, Washington Factory.
Performance
A standard BBJ 737 series is powered by 2 CFM International CFM56-7B27 turbofan engines. Each providing 27,300 pounds-force of thrust. Its maximum range is 5,673 nautical miles (10,506 km), while its normal range is 5,644 nautical miles (10,452 km). Also, it has a maximum cruise speed of Mach 0.7 and a normal cruise speed of Mach 0.68.
This aircraft can seat up to 19 passengers with a 2 pilot crew. Has a maximum takeoff weight (MTOW) of 174,200 lbs and a maximum landing weight (MLW) of 146,300 lbs. It also has a takeoff distance of 4,491 ft (1,369 m), a landing distance of 2,326 ft (709 m) and a maximum cruise altitude of 41,000 ft.
Interior
The interior of the BBJ is more spacious and luxurious than most business aircraft available on the market. The interior provides a layout which may include; a washroom with showers, a conference or dining room living area, master (principal) bedroom, second bedroom/office, roomy galley and more.
The cabin height measures at 7'1″ ft in height, 11'6″ ft in width and 79'1″ ft in length. This can be prepared or set up for many different configurations depending on your business and travel needs.
787 Dreamliner Spec Comparison
The 787 Deamliner is assembled in North Charleston, South Carolina. With many aircraft in their fleet, the Dreamliner is considered one of the most popular widebody jets among most airlines. Currently there are three models in the series. The 787-8, 787-9 and 787-10. There are many similarities between the three. However, you can find a brief overview and comparison between the 787-8 & 787-9 in the infographic below.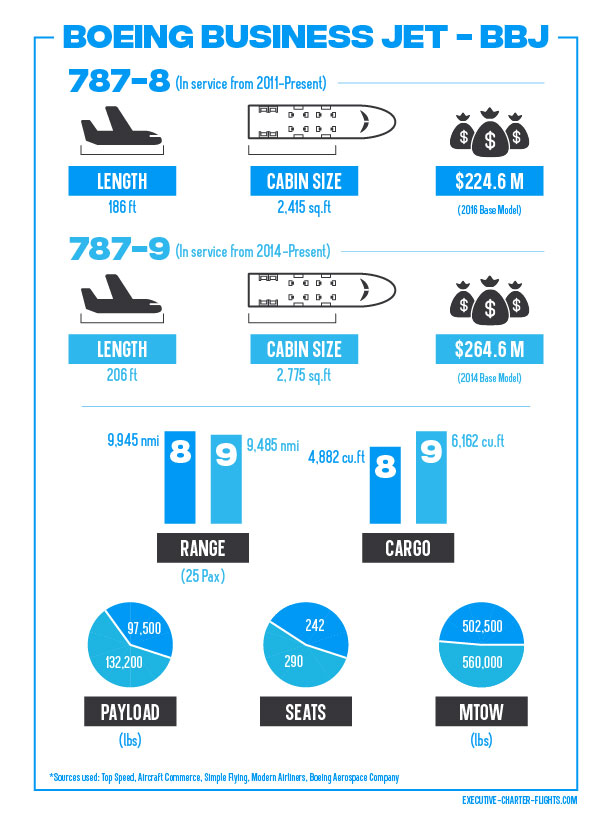 If you're considering a BBJ for sale. Don't hesitate to contact one of our representatives for an in-depth analysis or to learn more about the advertised or unadvertised models we have available.
*Boeing has many different types of aircraft. This page will discuss a few in general and list the available models specifically in the listings above. Please see each listing for details on their individual specifications, layout and performance.
Click here to find more information on the Gulfstream G150 for sale, or click here to read our brief guide to leasing and ownership.