The Gulfstream G650 was an internal project that began back in May of 2005. It was publicly announced and unveiled in March 2008. Like the G550, the G650 was also the recipient of the Collier Trophy award in 2014. The trophy awarded them for having "strengthened business aviation through significant technological advancements in aircraft performance, cabin comfort and safety." 
The G650ER is the extended-range model which was announced at the annual European Business Aviation Association exhibition in May 2014. The extended range model made attempts at two world records. It ended up setting one for the longest nonstop flight by a purpose-built business jet by flying from Singapore to Las Vegas. Which is approximately 8,010 nautical miles, including 4 pax and crew.
G650ER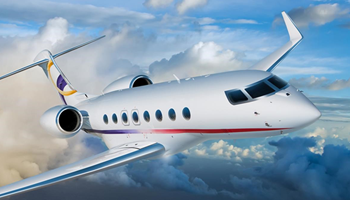 Price: $39,950,000
Serial #: 6286 
Total Time: 245.9 
Number of Seats: 14
Phone: +1-646-971-0810
Location: Hamilton, Bermuda
View Details
Contact
Quote
G650ER (Year: 2018)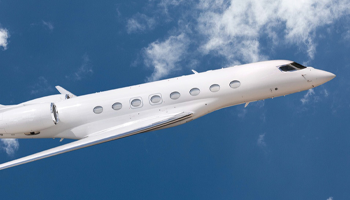 Price: Make Offer 
Serial #: N/A 
Total Time: 319 
Number of Seats: 14
Phone: +1-646-971-0810
Location: London, United Kingdom
View Details
Contact
Quote
G650 (Year: 2014)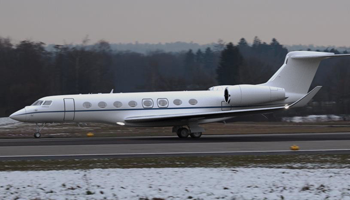 Price: $Make Offer 
Serial #: N/A 
Total Time: 2,339 
Number of Seats: 13
Phone: +1-646-971-0810
Location: Virginia, Switzerland
View Details
Contact
Quote
Performance
With seating of up to 19 passengers, this aircraft offers a max flight long-range cruise of 7,000 nautical miles (12,964 km) at Mach 0.85. At Mach 0.90, you will experience a high-speed cruise for a range of 6,000 nautical miles (11,112 km). The maximum operating Mach number (Mmo) is 0.925.
Also powered by Rolls-Royce, the G650 offers two BR725 engines that can each produce a maximum thrust of 17,000 pounds-force. It provides 5,858 ft (1,786 m) takeoff distance and 4,167 ft (1,270 m) landing distance. Has an initial cruise altitude of 41,000 ft, a maximum cruise altitude of 51,000 ft. A maximum takeoff weight (MTOW) of 99,600 lbs and a maximum landing weight (MLW) of 83,500 lbs.
Interior
The G650 has up to four living areas (for working, eating, relaxing and entertaining) and includes 16 panoramic oval windows which offer natural and abundant light (8 on each side). The cabin measures 6'3″ ft in height, 8'2″ ft in width and 53'7″ ft in total length (including baggage). It also offers the option of a forward or aft galley as well.
Along with the Predictive Landing Performance System, the PlainView flight deck is also installed with a second version, PlaneView II. This helps reduce pilot workload and increase overall safety. The EFVS or enhanced flight vision system is an upgrade to the EVS on the G550. This allows authorized pilots to land without natural vision within lower visibility conditions. 
Additional Info
G650ER
Max range is 7,500 nm (13,890 km) at Mach 0.85. 6,400 nm (11,853 km) at Mach 0.90.
Has a 6,299 ft (1,920 m) takeoff distance and 3,000 ft (914 m) landing distance.
Has a max takeoff weight of 103,600 lbs.
*These are general specifications of the above mentioned aircraft. Please see each listing for details on their individual specifications, layout and performance.
Click here to learn more about the Gulfstream G550 for sale. Or, click here to navigate back to the homepage.