The third generation Bombardier Global 6000 is an ultra long-range business jet that started production in 2012 and is an improvement to the Global Express XRS. The 6000 provides a higher cruise speed, improved cabin layout / lighting, increased range and more.
With a lavatory that features a vanity, sink, faucet and large mirror. Sound insulating sliding doors that separate the entrance and main cabin. The 6000 provides a great experience for any passengers preparing for long distance travel.
Available Listings
Available Listings - Global 6000
Image
Details
Price

2012 Global 6000

London, United Kingdom

🇬🇧 

Serial #: 9432
Total Time: 5,129
# of Seats: 14

No Charter Use / Beautiful custom interior with a forward galley & crew rest / On Rolls Royce Corporate Care and MSP / Lightning Detection System ..

2014 Global 6000

Hamilton, Bermuda

 

🇧🇲

Serial #: 9549
Total Time: 1,687
# of Seats: 13

Global Vision Flight Deck / Engines Under JSSI Platinum / Synthetic Vision / Smart Parts Plus / APU covered by JSSI / HUD/EVS ...
Available Listing Mobile - Global 6000
listing
2012 Global 6000
Price: Make Offer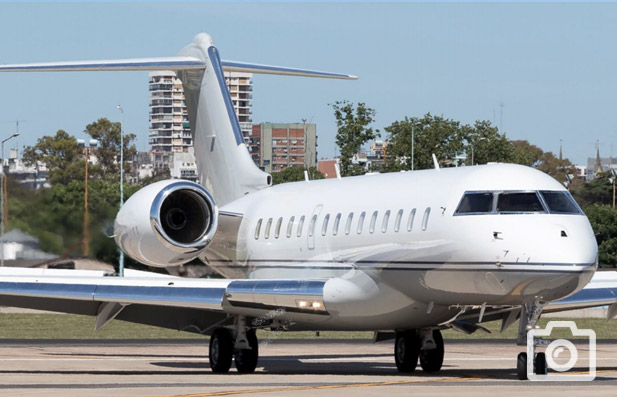 Serial #: 9432
Total Time: 5,129
# of Seats: 14

London, United Kingdom  
No Damage History
Updated
Sept 12th 2021 11:18 PM
2014 Global 6000
Price: SOLD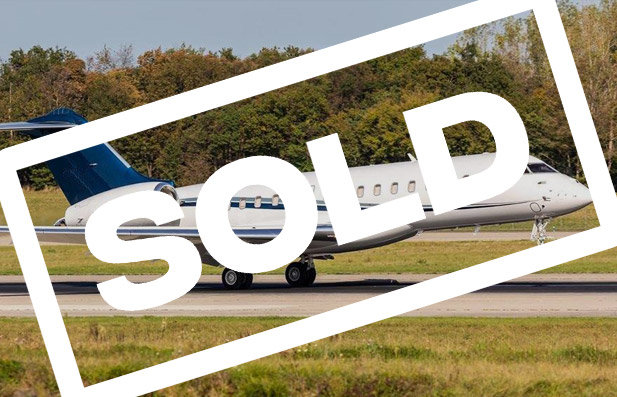 Serial #: 9549
Total Time: 1,687
# of Seats: 13

Hamilton, Bermuda 🇧🇲
No Damage History
Updated
Sept 12th 2021 11:20 PM
Performance
This aircraft is powered by two Rolls-Royce BR710A2-20 turbofan engines with 14,750 pounds-force of thrust each. Its maximum range is a little over 6,000 nautical miles (11,112 km) with 8 pax and 4 crew at Mach 0.85. While its normal range is 5,890 nautical miles (10,908 km). Its maximum cruise speed is Mach 0.89 while its normal cruise speed is Mach 0.85.
The Global 6000 can seat up to 17 passengers including a 2-4 pilot crew. Its maximum takeoff weight (MTOW) is 99,500 lbs and its maximum landing weight (MLW) is 78,600 lbs. The takeoff distance for this aircraft is 6,476 ft (1,974 m), its landing distance is 2,236 ft (682 m) and its maximum cruise altitude is 51,000 ft.
Interior
Bombardier themselves have stated that for its class, this aircraft has one of the largest cabins which offer excellent comfort and space for its travelers. With three cabin zones, it measures 6'2″ ft in height, 7'11" ft in width and 43'3″ ft in length. It also includes 28 large windows, helping to provide the cabin with beautiful natural light.
This aircraft provides a large full-service hardwood floor galley, that has been set between the cockpit and the main cabin area for passenger privacy. Bombardier's Vision Flight Deck has also been upgraded to the Rockwell Collins Pro Line Fusion Avionics. It also includes a Head-Up Display (HUD), Enhanced Vision System (EVS) and Synthetic Vision System (SVS).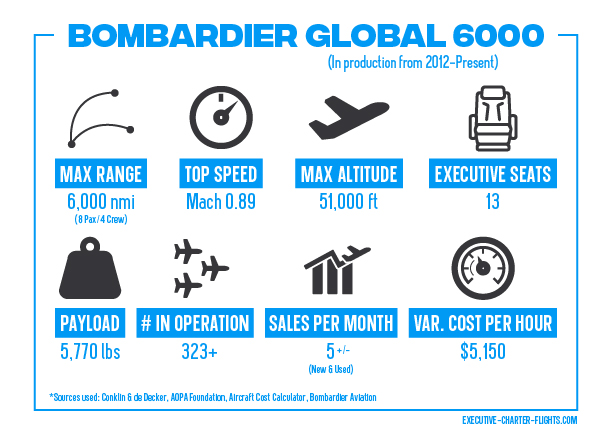 *These are general specifications of the above mentioned aircraft. Please see each listing for details on their individual specifications, layout and performance.
Additional Information
The US Air Force Life Cycle Management Center recently announced in June 2021. Their contract with Learjet to deliver approximately 6 Bombardier Global 6000 aircraft ($464.9M). This decision was based on the military's need for business jet-sized aircraft to host persistent voice data and communication payloads.
If you're looking to purchase a new or used Global 6000, then be sure to get in contact with one of our representatives. We have access to advertised and unadvertised listings, where we can provide our consultation and guidance, to help with your decision.
Click here to get more info on the Boeing Business Jet for Sale, or click here to go back home.