Find the Right Corporate Aircraft

Buying a Private Jet
The process one must go through to buy a private jet involves a considerable investment of time and money. Besides the aircraft purchase itself, there are a number of steps that play an important role in making sure the process is seamless and successful. When deciding on whether or not this is the right purchase for you or your business needs. There are a few points to keep in mind before you begin.
Most aviation experts agree that if you fly 400 or more hours per year, you should seriously look into owning or leasing an aircraft. There are exceptions to this statement, however if you're traveling anywhere in that range, it's something worth looking into. Also, it is important to think about where you will base your aircraft and who will maintain it. Do you have an internal team, or will you need to factor in a flight crew and maintenance team into your budget?
If you're seriously interested in the buying or leasing process, then read below for a brief overview & step by step guide on how to get started. Executive Charter Flights has access to almost any type of aircraft or helicopter available on the market. If you have any questions at all, feel free to call or send us an email.
Available Manufacturers
Learjet, Gulfstream, Dassault, Bombardier, Boeing, Airbus, Beechcraft (Hawker), Cessna, Embraer
*Plus, access to aircraft that are not publicly advertised worldwide*
_
Brief Overview: Step By Step Guide
1.) Determine Your Travel Needs
When purchasing an aircraft, you should genuinely think about your individual needs. Whether the aircraft will be used for business or pleasure, you should consider the number of passengers you will normally be traveling with on a daily or weekly basis. How far will you travel from your home base, how frequent are the trips, and what is the distance of each destination? These factors along with other considerations will help determine the size of the aircraft that will best suit your needs. You will also want to consider how much luggage you will be carrying with you. Do you have tools or supplies that are required for business meetings? Does your family travel with lots of suitcases, skis, camping equipment, or other necessary items?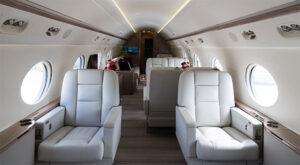 While traveling for business, you will also want to ask yourself. Will this aircraft be used to conduct business meetings or presentations? If so, how much interior space will you need to comfortably carry out those interactions? Cabin size and space requirements will be very important in determining the size of the aircraft you will need.
If you are looking to buy a private jet for leisure travel, how many family members will be on each trip. Also, will extended family be traveling along with your immediate family? How often will you use the aircraft for business and personal travel? And will you plan to travel on a yearly or trip by trip basis?
A business may consider owning a private jet because it allows them to operate more efficiently. They can cover a long distance in a short period of time. They can travel to meet new prospects or customers more conveniently overall, while saving an immense amount of wasted time in airports. The business executives can visit multiple offices, plants, or development sites in a shorter time than commercial flying would ever allow. Additionally, arriving at a small private jet terminal, or FBO (Fixed Base Operation) and boarding a private jet can take only a few minutes, as compared to the time it takes at a large commercial airport. The convenience alone that private flying creates, is priceless.
2.) Determine Your Budget
The next thing you will want to consider is your budget. Out of the inquiries we receive. Many times we are asked, "How much does it really cost to buy a private jet?"
A few factors that can help determine this are; how far you plan to travel, the number of passengers you wish to carry on a regular basis, and the amount of luggage you plan to take with you. This along with some other considerations will determine the size of the aircraft that best suits your needs.
The outright cost of the aircraft you purchase or lease, will not be the only thing that determines your budget. You must also factor in:
Regular maintenance
Replacement parts
Cost of pilots & crew
Insurance
Fuel
Parking & ground fees
Airport landing fees
Interior & exterior upgrades
You will also need to consider legal fees when getting your management contract in place. Operational fees and maintenance can run anywhere from $100,000.00 US to $1,000,000.00 US per year.
New vs Used
Most of our clients inquire about used aircraft, as opposed to brand new. Interestingly, most pre-owned aircraft aren't really that used to begin with. Some pre-owned aircraft may have sections of the cabins that have never been occupied. For example, some seats may still be covered in plastic wrap. In many cases, a pre-owned aircraft isn't necessarily 10-15 yeas old, it could be an aircraft that is 1 or 2 years old. Currently in today's market used aircraft are priced lower than normal making this an opportune time to find a good price.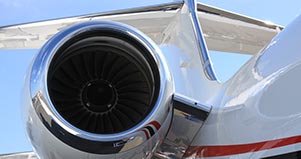 Used aircraft depreciate slower than newer aircraft and will hold their value longer. This gives the buyer a better opportunity to "trade up" when the time comes, and not lose too much in the process. The FAA has strict standards that must be met when landing at different airports. Used aircraft must meet all regulations when purchased and must be up to date with all specifications upon purchase.
Buying a new aircraft is generally more expensive and can also take up to 2 years to complete the process in order for the buyer to take possession. Most times there is a lengthy wait list for the newest models. New aircraft are usually covered tip to tail with a 5 year warranty. However, the buyer is responsible for the cost of the inspections.
Anyone experienced enough will agree, that owning a new aircraft is better in terms of overall features and the latest technology. Fuel efficiency, comfort and speed are always improved with every new model of jet. While you may experience higher upfront costs when purchasing a new aircraft, you will most likely require less maintenance for the duration of your warranty. For example, a new Gulfstream 550 would cost approximately $61.5 million. While the same Gulfstream 550 used, would cost about $19 million or so.
Buying A Private Jet vs Leasing
When purchasing a new or used aircraft, you can pay cash outright or finance the purchase. A knowledgeable team will assist with recommendations for banking institutions and aviation lending firms that are experienced with aircraft purchases and acquisitions.
Wet Lease
Entering into a wet lease, or an ACMI Lease, will provide the lessee with the aircraft, the crew, maintenance and insurance on the aircraft, at a specified base of operations. The aircraft would be based at a designated airport and managed by a company at a specific FBO (Fixed Base Operation). Leasing is also a very popular way to become familiar with a certain model or size of aircraft. Leasing for a year can help determine what size or type of aircraft you wish to buy, and in fact, if you should buy or simply lease.
Dry Lease
A dry lease is a little different. The owner of the aircraft will supply the jet, however they will not supply the crew. If you already have your own pilot, then this works out great. With a dry lease, the lessee will have temporary use, require management operations, carry the insurance and pay the crew for a set period of time. In terms of ownership, it will still belong to the lessor. In general, dry leases don't usually span for longer than 2 years.
There can be benefits to leasing an aircraft as opposed to outright ownership. For example, entering into a lease and not being the legal owner of the aircraft. You don't have to concern yourself with the depreciating value when you choose to end your lease or start a new one. You also have the ability to try out different aircraft over the course of a few years before making the decision to become a legal owner yourself.
3.) Find an Aviation Lawyer
Unfortunately, buying a private jet isn't as easy as buying a car. There are many FAA Compliance regulations, as well as tax related legalities you must adhere to once you purchase your aircraft. Having an aviation lawyer will help make this process a lot easier. Executive Charter Flights will assist in directing you to a team that exclusively deals with purchases and acquisitions. Good aviation lawyers with expertise and good reputations can be hard to find and our team can assist you in determining the best ones for your needs. Keep in mind that many aviation consultants / lawyers may have previously worked at major airlines or private companies as pilots, or have been on staff. You may want to consider someone who has had hands-on experience along with a degree in aviation law.
Aviation law covers many facets of aircraft ownership such as maintenance, pilot licensing requirements, aircraft navigation and air traffic control safety. While being enforced mostly by the Federal Aviation Administration (FAA), aviation law is mostly governed at the federal level as opposed to the state level. Other boards or administrations that also deal with safety include the Transportation Security Administration (TSA), and the National Transportation Safety Board (NTSB). TSA works to protect passenger safety, while the NTSB deals with aviation accidents.
4.) Test & Inspect
After deciding on the aircraft you wish to purchase. You will want to move on to the next step, which would be testing and inspecting your jet with an engineer before finalizing your decision. You will want to know what kind of maintenance is needed to be performed initially, along with what maintenance will be due and when. Any potential maintenance costs may also be grounds for renegotiation of your contract.
Testing
When the negotiations are complete with your broker and you have provided your down payment, you will want to perform an initial test and acceptance flight as part of your inspection duties. This inspection is approximately 2 hours and it is important for a non-flying pilot and an engineer / technician to be present, so they may properly assess the operation and flight characteristics of the aircraft.
Inspecting
A thorough pre-purchase inspection will involve ensuring the aircraft you're looking to purchase has a good maintenance history. You will want to ensure that the exterior, interior and all parts of the aircraft have been inspected for corrosion, over usage, wear & tear and damage of parts.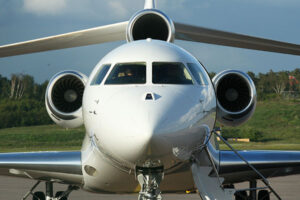 Damage history is also important as it can influence the resale value of your aircraft. There are 2 types of damage history that you should look out for, static and dynamic. Dynamic refers to any damage that occurred while the aircraft engines were in operation and static refers to any damage that was incurred with the aircraft was stationary.
Being aware of your aircraft damage history is very important as it could lead to significant costs in repairs down the road if not inspected properly. Performing a thorough test and inspection from tip to tail is imperative to the sales process and could save you thousands or even millions in potential expenses down the road.
*Knowing what maintenance cycle your aircraft is in, is also important as it can help determine what potential costs may lie ahead. Large maintenance expenses are usually incurred based on the calendar of the aircraft and yearly usage. Seeing this information beforehand may help reduce costs after purchase.
5.) Find a Management Company
Executive Charter Flights' team of aviation experts will be with you every step of the way and will assist you with placing your aircraft with the best management company at the airport of your choice. The relationships our team has formed over many years of service in aircraft purchase and acquisitions, will help determine what management company may suit your needs the best. Without a good management company, you will have a very difficult time getting your jet in the air.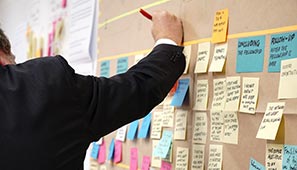 If you decide on a small management company, you will typically have easier access to staff and management when it comes to servicing your needs. Not only can they respond faster to your requests, but they can also provide more personalized and customized service. In contrast, a larger company may have been in service longer and offer more amenities. They may have a larger list of clients and be less personalized, but also offer efficient service. Whether large or small, it will be good to know also if they work with international travel as well as domestic.
You would need to place your aircraft with a management team that has experienced mechanics specific to your type of aircraft. Does the company use in-house mechanics or do they outsource the work to local machinists? Do they have parts available for your type of aircraft? You will also need a fueling contract at the management facility, and Executive Charter Flights can assist you with negotiating the best fueling prices for your aircraft type.
Overall, the costs of hiring a management company are quite similar across the country and may vary a lot once you move internationally. Having the right direction and an experienced team assisting you with selecting a management company can be one of the most important aspects of your aircraft purchase. On average, aircraft management can range from $100,000.00 to $200,000.00 per year, depending on your type of aircraft. Most clients who buy a private jet usually keep their aircraft for 3-5 years and it is critical to have an experienced service staff and professional team within your management company.
6.) Working With The Right Team
Nothing is more important than peace of mind. Carrying out all of these tasks alone would be quite overwhelming, especially if you are doing this for the first time. Working with an experienced broker or aviation sales team can greatly simplify the process. Your goal is to acquire the most suitable, reliable and affordable aircraft for your business or personal needs. Not only is finding a trusted aviation consultant important when looking for an aircraft, but finding a team that has relatively close access to inventory on the market is also beneficial.
Executive Charter Flights works with a team that follows advertised and non-advertised availability on a daily basis. Sourcing your options based on your travel needs and your budget will be quite straightforward for our team and they will be able to bring you exactly what you are looking for. They will give you peace of mind, every step of the way with the purchase, acquisition or leasing process. They can also negotiate with the sellers and ultimately take care of everything you or your business will need.
7.) Finalizing The Process
Our sales team is quite experienced and has a strong background in aircraft leasing and sales. They are able to assist you with all of the above processes and will go above and beyond to maintain the best relationships with satisfied customers. Not only do we provide uncompromising customer service and professionalism, we also provide access to a wide selection of private aircraft for purchase at affordable prices.
Our relationships are not only considered strong, but also trustworthy as we only work with safe, secure and reputable companies in the industry. Executive Charter Flights offers advertised and non-advertised aircraft and we welcome your inquiry. We are standing by 24/7 and are ready to assist you. Please contact us by email or by phone. Have your questions ready so we'll be able to address your immediate needs, direct you to our experts and get you started in the right direction!

Get A Quote
Best Selling Private Jets (2021)

| # | Model / Series | # Sold | # of Pax | Max. Cruise | MSRP |
| --- | --- | --- | --- | --- | --- |
| 1 | Gulfstream | 103 | N/A | N/A | Call |
| 2 | Cirrus Vision (SF50) Jet | 86 | 7 | Mach 0.47 | Call |
| 3 | Bombardier Global | 66 | N/A | N/A | Call |
*Based on the data from the General Aviation Manufacturers Association (GAMA), the best selling private jet of 2021 was the Cirrus Vision Jet SF50. Their yearly shipment report indicates that the manufacturer has delivered approximately 86 aircraft in all of 2021. Through further investigation. You will also realize that the best selling business jets are the Gulfstream 500 & 600 series. Again, based on the year end shipment report. Gulfstream has sold / delivered approximately 103 in all of 2021.
For more information on the 5 best selling private jets in 2021, be sure to click here for a brief break down and overview.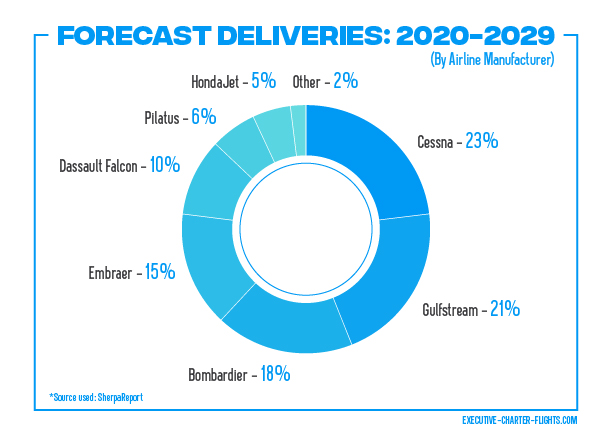 Our Partners Have Been Featured In:

Countries We Have Assisted
Australia, United Kingdom (UK), Japan, India, United Arab Emirates, Singapore & more.
For more information about how to buy an aircraft or to speak directly with one of our sales reps, please contact us below.
Besides a wide selection and great prices on aircraft, our sales reps have great customer service. We listen to your needs and do our best to provide the right solution for you and your business.
*Email enquiries can take up to 48 hours. For a faster response please call (437) 900-5706
For info and pricing on flying Private Jet Miami, click here. Or, click here to get more information on how to start an airline company.
The business, private and commercial aircraft markets are experiencing higher than normal demand, with significantly more buyers than available product. Consequently, acquisition time is taking longer and additional parameters are in place to more efficiently and effectively result in a successful purchase. Further, as a result of the demand in acquisition / sales, maintenance facilities, necessary prudent 'pre-purchase inspections' etc. Are also operating at capacity.
If you are contemplating a purchase in the next 3 – 6 months, now is the time to begin the acquisition process. Please call or email and request our exclusive acquisition agreement for review and execution. We will also require a fully refundable deposit to be placed with a bonded third party Escrow Service. This tells the market you are serious and prepared to proceed with an aircraft purchase. We expect this demand in aircraft to reach well into 2023 and beyond. We would be pleased to discuss and questions, concerns or requests.