The final aviation shipment report for 2021 has been released by GAMA. It appears as though business jet shipments and deliveries have actually improved in comparison to 2020 (+10.2%). Along with turboprops (+19%) and piston airplanes (+5.5%). As per the updated General Aviation Manufacturers Association (GAMA) report for February 23rd 2022. It looks as though the number of business jets that were delivered in 2021 is approximately 710. As for turboprops (single & multi-engine), there were around 527 units shipped and delivered in total for 2021. (1)
While the market had about a 20% drop overall in 2020. It looks as though 2021 had an increase of 10.2%. Showing an improvement to the overall numbers from last year. Have a look at our brief overview below, to learn more about the 5 best selling private jets (or aircraft families / series) in all of 2021.
1. Gulfstream 500-650ER
As usual, Gulfstream appears to keep a fairly consistent track record of being one of the most selling manufacturers of business jets. It was reported to be number one in 2020, delivering over 100 units of the G500 and G600 series combined. When we look at the delivery numbers for 2021, the Gulfstream G500 and G600 series have remained the best selling business jets. With a total of 103 units delivered.
Total Sold: 103 Units / Aircraft
More Info: G550 Specifications | G650 Specifications
2. Cirrus Vision Jet (SF50)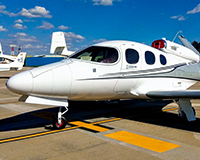 After the first quarter numbers were released. We thought the interest in Cirrus was starting to settle down. Although when the Q2 – Q4 numbers were posted. We have come to the realization that the SF50 is still a very popular the light private jet in the market. With 16 private jets being delivered in the 2nd quarter, 23 in the 3rd. Plus, a surprising 40 units in the 4th. The Cirrus Vision Jet sits at number 2 and has shipped / delivered a total of 86 jets. Surpassing their total of 73 in 2020.
Total Sold: 86 Jets
More Info: The Vision Jet (SF50)
3. Bombardier Global 5000-7500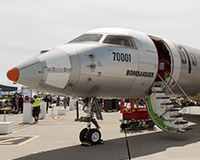 While not delivering as many aircraft as Gulfstream or Cirrus. The Bombardier Global series has shipped & delivered more units than it did in 2020. Since the addition of their newer models in 2020 (the 5500, 6500 & 7500). Bombardier has appeared to maintain a consistent sales record, despite the current economy and supply chain issues. In 2019, Bombardier was able to ship approximately 54 units. In 2020, that number increased to around 59. As of Feb 2022, the Global 5000-7500 series has sold approximately 66 units in 2021. (2)
Total Sold: 66 Units / Aircraft
More Info: Global 6000 Specifications | Global 7500 Specifications | Global 5500 Specifications
4. Embraer Phenom 300 / 300E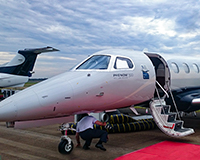 Just like last year, the Phenom 300E has sold a lot more aircraft than its 300 predecessor. Out of 50 units shipped last year, the 300E was delivered 40 times out of those 50. We believe the added aisle space may be a factor. Although over the years, the Phenom 300 has been a popular seller quite consistently year in and year out. Despite their popularity and strong sales numbers from last year. The Phenom 300 / 300E places in at number 4, with 56 units sold in all of 2021.
Total Sold: 56 Units / Jets
More Info: Phenom 300 / 300E
5. Pilatus PC-24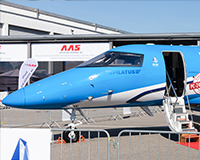 Through the first three quarters, we were able to witness the Pilatus PC-24 come very close in shipment and deliveries to the Bombardier Challenger 300 / 600 series, the HondaJet and the Cessna Citation M2. While the HondaJet was quite close, it seems as though the PC-24 was able to gain the edge with 8 more delivered in 2021. We have received enquiries over the past few months about this aircraft, and it seems as though it's popularity is picking up as we continue into 2022. As of late February this year, the Pilatus PC-24 has delivered approximately 45 units in 2021.
Total Sold: 45 Units / Jets
More Info: PC-24 Specs
Honorable Mention – Bombardier Challenger 350 / 650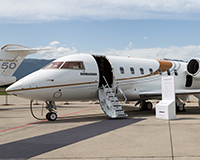 Up until the 3rd quarter, Bombardier held the 5th spot on our list. Like we've witnessed in previous years, Bombardier seems to have a tendency to appear more than once on top selling lists. They were among our top five twice in 2020. Although it appears that for 2021, Bombardier will only appear once. As per the GAMA year end shipment and delivery report. The Challenger 350 / 650 series has sold 44 aircraft as of February 2022.
Total Sold: 44 Units / Jets
More Info: Challenger 350 Specs | Challenger 650 Specs
Final Words
We hope that this information has provided you with a better outlook as to which business / private jets are being shipped and delivered the most throughout North America, South America, Europe and Asia. Getting a perspective of which aircraft sell most consistently, is a good way to gain an understanding of the market.
It also helps you gain a better grasp of which manufacturers are worth placing an investment of your time and money. For the short term or long term of your lease / ownership of the asset.
More Questions?
Thank you for stopping by and taking the time to read our article. If you have any additional questions, feel free to contact us via email, Facebook, or Instagram.
To read more about the top 5 best selling private jets for 2020, click here. Or, to read more about the process of purchasing a private jet, click here.
References:
1. GAMA (General Aviation Manufacturers Association), General Aviation Shipment Report 2021 – Year End, retrieved from: https://gama.aero/wp-content/uploads/2021ShipmentReport-02-23-2022-0730.pdf
2. Larry Bean, Bombardier Introduces Two New Long-Range Business Jets and Announces Range Increase for 7500, retrieved from: https://robbreport.com/motors/aviation/bombardier-introduces-global-5500-6500-long-range-business-jets-2798048
3. GAMA, Data & Publications: Quarterly Shipments and Billings, retrieved from: https://gama.aero/facts-and-statistics/quarterly-shipments-and-billings
4. GAMA (General Aviation Manufacturers Association), General Aviation Aircraft Shipment Report, retrieved from: https://gama.aero/wp-content/uploads/2020ShipmentReport-05202021.pdf