The Dassault Falcon 2000 had its first flight in March 1993 and began production in 1995. It has had many updates over the years, which has led to the 2000S model that was announced in Geneva at the EBACE in May 2011. This super midsize jet has been in production since 2013 and made its first delivery in April of that same year.
Performance
This aircraft is equipped with two enhanced Pratt & Whitney Canada PW308C turbofan engines which have 7,000 pounds-force of thrust. The 2000S has a maximum range of 3,350 nautical miles (6,204 km) with 6 pax at a speed of Mach 0.8. It has a maximum cruise speed of Mach 0.86 and a normal cruise speed of Mach 0.68.
The 2000S can seat up to 10 passengers including a two pilot crew. It has a maximum takeoff distance of 4,325 ft (1,318 m) and it has a maximum landing distance of 2,315 ft (705 m). It also has a maximum takeoff weight (MTOW) of 41,000 lbs, a maximum landing weight (MLW) of 39,300 lbs and a maximum cruise altitude of 47,000 ft.
Interior
The cabin in this aircraft has a large forward galley, a full size rear bathroom and an in-flight accessible baggage area. It offers an HD+ entertainment system with 19 inch widescreen monitors and support for playback of Blu-ray media. Its dimensions are 6'2″ ft in height, 7'8″ ft in width and 26'2″ ft in length.
The 2000S comes with 18 cabin windows to help bring in abundant natural light. It also uses the EASy II Flight Deck (with Honeywell Primus Epic System) for safety, situational awareness and to help reduce the pilots' workload.
Additional Info
This aircraft also has a cabin management system developed by Rockwell Collins for use by passengers to help gain more control of their in-flight experience.
The Falcon 2000EX was originally certified in March 2003, and is known as the basis of quite a few models / variants within the 2000 series. Some of those models include; the 2000EX EASy, 2000DX, 2000LX, 2000S and the 2000LXS.
2000S / 2000LXS Spec Comparison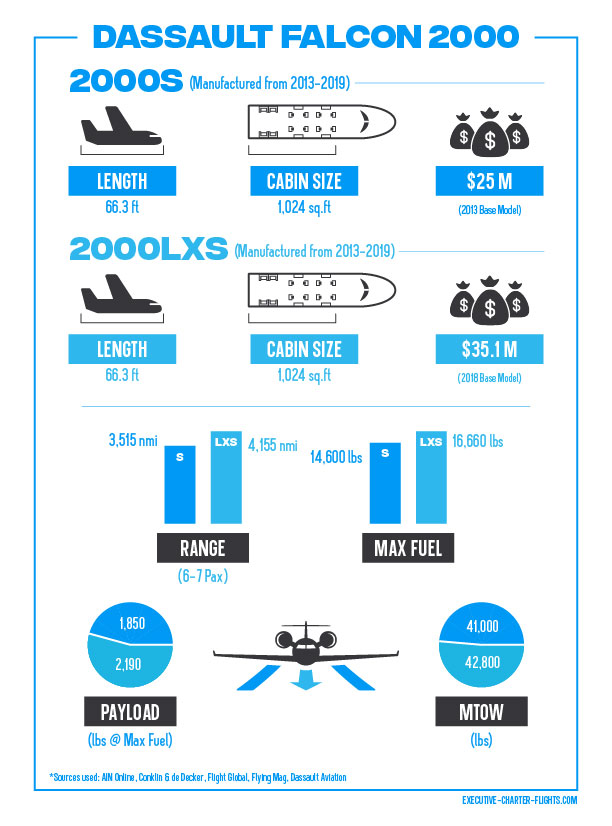 *These are general specifications of the above mentioned aircraft. Please see each listing for details on their individual specifications, layout and performance.
Learn more about the Falcon 7X aircraft. Or, click here for more about our services.