The Dassault Falcon 7X ultra-long range was launched at the 2001 Paris Air Show. It took its first flight in May 2005 and had its first sales and delivery in June 2007. As per their website, Dassault is one of the first in the business aviation industry to introduce a fly-by-wire jet with a Digital Flight Control System (based off their 30 years military experience).
With their collaboration on the new 7X interior options. In 2010, Dassault Aviation and BMW Designworks were awarded the 2009 Good Design Award by the Chicago Athenaeum & European Center for Architecture Art Design.
7X (Year: 2009)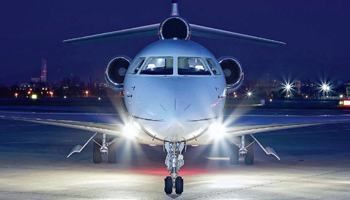 Price: Make Offer
Serial #: 046
Total Time: 6,504
Number of Landings: 1,639
Phone: +1-646-971-0810
Location: Van Nuys, California
View Details
Contact
WhatsApp
Performance
The 7X is organized into 3 lounges and can accommodate 12 to 16 passengers. It has a maximum range of 5,950 nautical miles (11,019 km) and can travel to cities such as Shanghai to Seattle and Paris to Tokyo with eight passengers and three crew at a speed of Mach 0.9. At a normal cruise speed, this aircraft can travel at a speed of Mach 0.8 with 8 passengers.
This aircraft is equipped with three rear mounted Pratt & Whitney Canada PW307A turbofan engines with 6,400 pounds-force of thrust each. Its maximum takeoff distance is 5,710 ft (1,740 m) and maximum landing distance is 2,070 ft (631 m).
The maximum takeoff weight for this aircraft is 70,000 lbs, maximum landing weight is 62,400 lbs and it's maximum cruise altitude is 51,000 ft.
Interior
With 28 large windows and spacious lounge areas, the cabin in the 7X is 6'2″ ft in height, 7'8″ ft in width and 39′ ft in length. It has a private lavatory, full size galley, ergonomic seating, advanced quieting acoustics and more.
Equipped with the Falcon EASy Flight Deck Avionics. This helps significantly improve situational awareness and helps to reduce the amount of workload for the pilot. EASy II, is an upgraded version which offers more features and functionalities that are designed for overall safety for the passengers, pilot and crew.
Additional Info
On average, the longest trip for maximum distance is about 12 hours to 12 hours and 15 min at approx. Mach 0.80
The aircraft can go straight to flight level 390 at maximum gross takeoff weight, at ISA +10 at Mach 0.80
In terms of fuel burn. Despite having the 3 engines. When compared to an aircraft at a similar size with 2 engines. They both burn an almost similar amount of fuel.
The upgraded 8X model can travel a longer range at 6,450 nautical miles (11,950 km)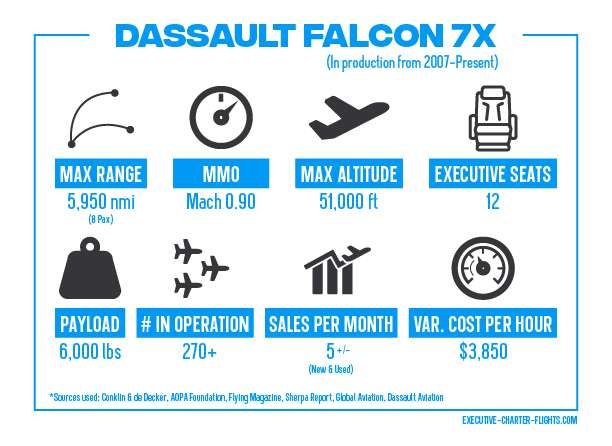 *These are general specifications of the above mentioned aircraft. Please see each listing for details on their individual specifications, layout and performance.
Get more info on the Gulfstream G650, or click here to visit our homepage.